Thank you for choosing YabandPay cross-border payment service. YabandPay is the official authorized European regional partner of WeChatpay and Alipay. We will try our best to provide you with professional mobile payment services. As a YabandPay settlement partner, PayPro holds a financial license issued by the De Nederlandsche Bank and is responsible for the settlement of funds.
---
1. General Questions
1.1 What is YabandPay?
YabandPay is the mobile payment brand of Dutch telecommunications company: Yaband Telecom BV. It is an officially authorized European regional partner of WeChat Payment and Alipay. The office is located in The Hague, the Netherlands and Guangzhou, China and has its own technological R&D team. Yaband was founded in 2003. Currently, all duty-free shops in Amsterdam Airport Schiphol and Brussels Airport have opened WeChat payment provided by YabandPay.
---
1.2 What are the payment services provided by YabandPay?
YabandPay provides complete WeChat payment and Alipay products, which are mainly divided into three categories.
【App Payment】: YabandPay App is used to settle the funds. Download YabandPay App in Apple App store or Google Play. After logging in, there is a R code or scan code to collect money. You can also scan the QR code below to download.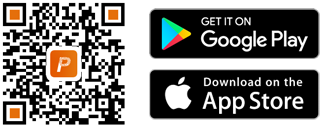 【Online Payment】: including WeChat QR code payment, WeChat Official Accounts payment, WeChat Mini program payment, WeChat H5 payment (conditional opening), Alipay QR code payment, Alipay H5 payment. YabandPay provides API documentation for development. Ecshop, Magento, Woocommerce, OpenCart and Prestashop already have free plugins. Please ask us.
【Offline Payment】:Dynamic QR code payment (dynamic QR code payment generated by customer scanning merchants), Quick payment (Merchant scanning customer WeChat (Alipay) QR code collection), Static QR code payment (required after customer scanning) Enter the payment amount yourself).
YabandPay POS Demo Video

Integrated payment Video

---
1.3 What is the difference between Alipay and WeChatpay provided by YabandPay and those within China?
First, the target is different. YabandPay serves companies registered in Europe, while domestic payment services are for companies legally registered in mainland China. Second, the settlement currency is different, YabandPay supports euro settlement, while domestic payment only supports RMB settlement. Secondly, the entire transaction process of Alipay and WeChat payment provided by YabandPay is in line with European tax bureau regulations and is subject to European Central Bank regulation. Finally, the transactional payment number done by YabandPay is approved by the Chinese Customs. For goods returned by cross-border direct mail, you can use YabandPay to pay the customs declaration form and return the VAT when purchasing in Europe.。
---
1.4 How about is the Fee?
YabandPay only charges a few transaction fees according to the total amount. There is no monthly fee and setting up fee, and there is no minimum consumption, which is charged according to how much the transaction is charged. For example, the rate is 2.5%, for 100 euros, the merchant receives 97.5 euros, and YabandPay deducts 2.5 euros for transaction costs.
---
1.5 What are the Currencies supported by YabandPay
Currently YabandPay supports the Euro or CNY.
---
1.6 About settlement
The merchant has a separate account under the Dutch central supervisory bank account, which is hosted at ABN AMRO Bank in the Netherlands. The account is bound to the merchant's company bank account number (IBAN), and the withdrawal process from the escrow account to the company's bank account is called settlement. Current Settelment team supports daily/weekly/monthly, and can be manually requested at any time. Settelment is free. However, if it is less than 100 Euro, a manual fee of 5 Euro will be charged.
---
1.7 What information is required to open YabandPay?
Sign the payment contract, and then provide the Company registration certificate, company charter, corporate passport, important shareholder passport (shares more than 10%), company bank account information (IBAN), once the information is complete, your YabandPay can be opened around 3 working days。
---
1.8 Service time
YabandPay provides a full range of support, such as mail, phone, WeChat, Whats App, etc., and provides 7 X 24 emergency phone service: +31 70 221 0808
---
2. Use After Account Opening
For the merchants who have been approved after KYC process, we have collected and sorted out the following questions regarding the use after account opening.
2.1 Account number and password
The account number and password will be involved in all payments, where the login account number is the email address registered in your contract and the password has been sent by email. If the password is lost or forgotten, the merchant can modify or retrieve it through YabandPay App. If the merchant has further business requirements, more login accounts canbe provided for free.
---
2.2 Settlement
PayPro ( https://www.paypro.nl)is responsible for the settlement, the merchant can view daily transaction data and apply for settlement withdrawals on the PayPro website. Currently, the default automatic settlement time is every Tuesday. The merchant can change to monthly or daily (working day) automatic settlement or manual settlement, according to the requirement. PayPro supports English and Dutch languages on the website.
Note: PayPro login account is different from YabandPay payment account.
---
2.3 Payment method
At present, YabandPay supports all payment methods of WeChat Pay and Alipay, and provides API document to interface with various cashier devices.
2.3.1  App payment
App store or Google Play, or download it directly by scanning the QR code below. Log in to YabandPay App with YabandPay account number and password to implement QR code payment, and to manage accounts in real time by viewing transaction records, browsing transaction reports and generating fixed QR codes.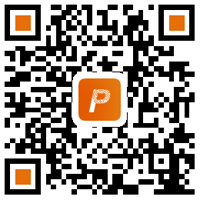 YabandPay App: Downloand
2.3.2  Static QR Code Payment
Download your static QR code on the "Account – Static QR Code" via YabandPay App. The merchant can print it out and put it in the right place; enter the amount of the payment when the customer pays, please check the amount beforehand; after the payment is completed successfully, the merchant can view the real-time and past transaction records in the "Transactions" of the YabandPay App.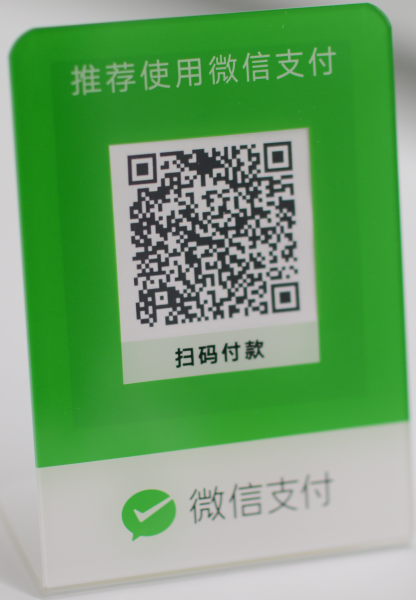 2.3.3  POS terminal
The merchant can scan the customer's QR code through YabandPay POS terminals to collect the money. The printing of receipts is also supported.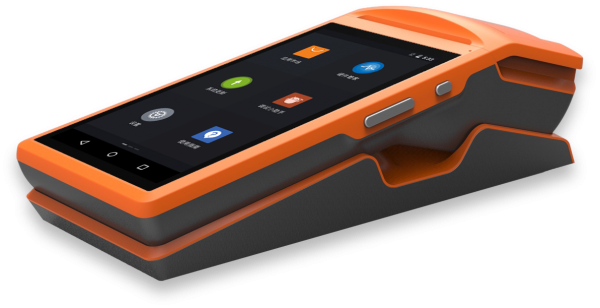 2.3.4  Online shop payment
YabandPay provides a standard API interface for online payment, including payments on websites, WeChat mini programs and WeChat official accounts. In addition, a free YabandPay payment plug-in has developed for websites using ECshop, Magento, Woocommerce and OpenCart systems. For other website systems, the merchant needs to contact a technical person for payment access development. Please ask us for technical-related documentation.

*  Download official Logo of WeChat Pay and Alipay: Download Logo
---
3. About PayPro
As a settlement partner with YabandPay, PayPro holds a financial license issued by De Nederlandsche Bank and is responsible for settlement.
3.1 Language
The PayPro website currently supports Dutch and English, the merchant can switch the language as shown below.

---
3.2 Dashboard
The merchant can view the settlement overview on the "Bank Account" page. Please note that the settlement consists of two parts, the current balance and the transactions in progress.
Click "New withdrawal" to set up the settlement.
---
3.3 Transactions
Real-time transaction records can be found on the "Financial" page.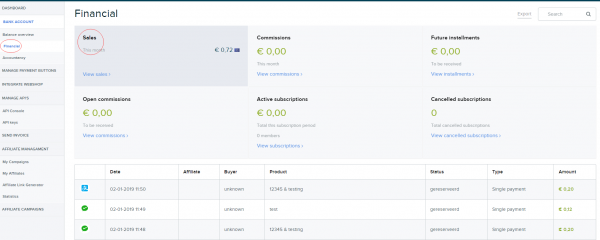 ---
3.4 Withdrawal settings
The merchant can manually withdraw money at any time, or set up an automatic settlement cycle in "Withdrawal settings".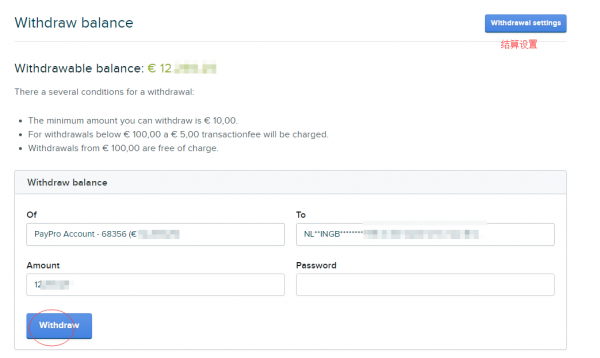 Automatic settlement cycle can be set daily/weekly/monthly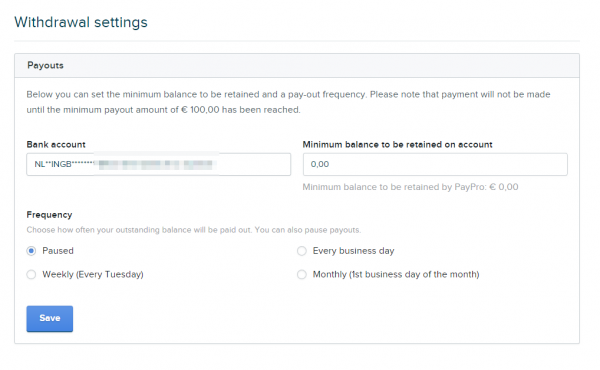 ---
3.5 Bank account verification
If the bank account has not been verified yet, please be sure to make it complete. If already verified, please skip this step.

PayPro has transferred an amount of 0.01 EUR to merchant's bank account. Please login to your bank account to find the transaction. A five-letter code can be found in the description of the transaction, please fill in for verification.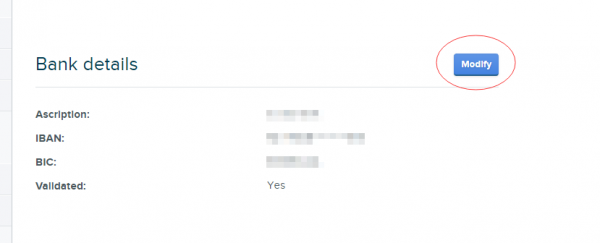 ---
4. Settlement Process
YabandPay provides technology and payment services throughout the payment and settlement process, and PayPro is responsible for settlement.
4.1 Bank account binding
> Merchant needs to bind his company's bank accounts in advance on the PayPro website (www.paypro.nl);
> After approval, PayPro will transfer 0.01 EUR to the account, and a code can be found in the transaction description;
> After the merchant receives the remittance and the code in the description, fill in and verify on the PayPro website, complete the bank account binding. All payments can only be settled (withdrawn) to the corresponding account;
> Account changes also require the above process to be completed.
---
4.2 Settlement process
Step 1: Pay
When the customer pays, WeChat / Alipay will deduct the corresponding RMB in real time according to its own exchange rate. After the customer confirms, the payment is completed. After the payment is completed, the customer can view the transaction via WeChat / Alipay Apps; the merchant can also view the transaction via YabandPay App, POS terminals and other payment devices provided by YabandPay; and the merchant can also log in PayPro to view the transaction.
Step 2: Settle (Withdraw)
1. On the day of completion of the payment and the next day, the settlement is in pending status; on the third day, the settlement becomes available. Only available settlement can be withdrawn.
2. Settlement cycle can be set as daily (working days), weekly (Monday), monthly (first working day of each month) automatic settlement (balance of more than 100 EUR or the minimum set amount will trigger automatic settlement). For the merchants in the Netherlands, the money can mostly be withdrawn in the afternoon on the same day of automatic settlement. Merchants can also request settlement manually at any time, and the settlement will take effect on the next working day (in the afternoon of Dutch time). Settlement of more than 100 EUR is free-of-charge, and a service fee of 5 EUR is charged
for less than 100 EUR.
For example::
If the merchant sets up daily settlement. A payment is made at 13:00 pm Dutch time on Monday, the settlement will be in pending status on Monday and Tuesday. It will be available for settlement on Wednesday and will be automatically settled once, and will be available to the merchant's company account in the afternoon of Wednesday.
---
If you have any other questions in use, please feel free to contact us by email: [email protected] or telephone +31 (0)70 221 0808 (Dutch time 9:00-17:00).